Episode:
In the early 1800s, much of the economy of the infant United States depended on the sea -- fishing, whaling, and international trade. Yet sailing into American harbors could be tricky, because there were few good charts of hidden reefs and other obstructions -- or even of the coastline itself. So in 1807, Congress created a new agency -- the Survey of the Coast -- to map the entire coastline.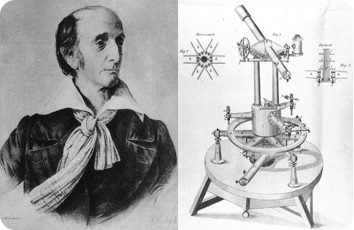 The Survey was the American government's first scientific agency. And it was the first of several agencies that today form NOAA -- the National Oceanic and Atmospheric Administration.
NOAA is best known as the parent of the National Weather Service. But it has a lot of other missions, too. It manages coastal fisheries, oversees marine sanctuaries, charts the tides and currents, and studies both coastal and deep-ocean environments.
And it's still responsible for mapping America's coastline -- all 95,000 miles of it.
The Coast Survey's first superintendent was a Swiss immigrant named Ferdinand Hassler. He used the stars, the alignments of landmarks, and accurate distance measurements to draw the best maps of the coastline to date. The purse and politics of the young Republic delayed the publication of his first map until 1834 -- a slice of Long Island, New York, around Great South Bay.
Today's technology is better, but the techniques are the same. They're still helping to map the American coastline -- 200 years after the birth of the first federal scientific agency.